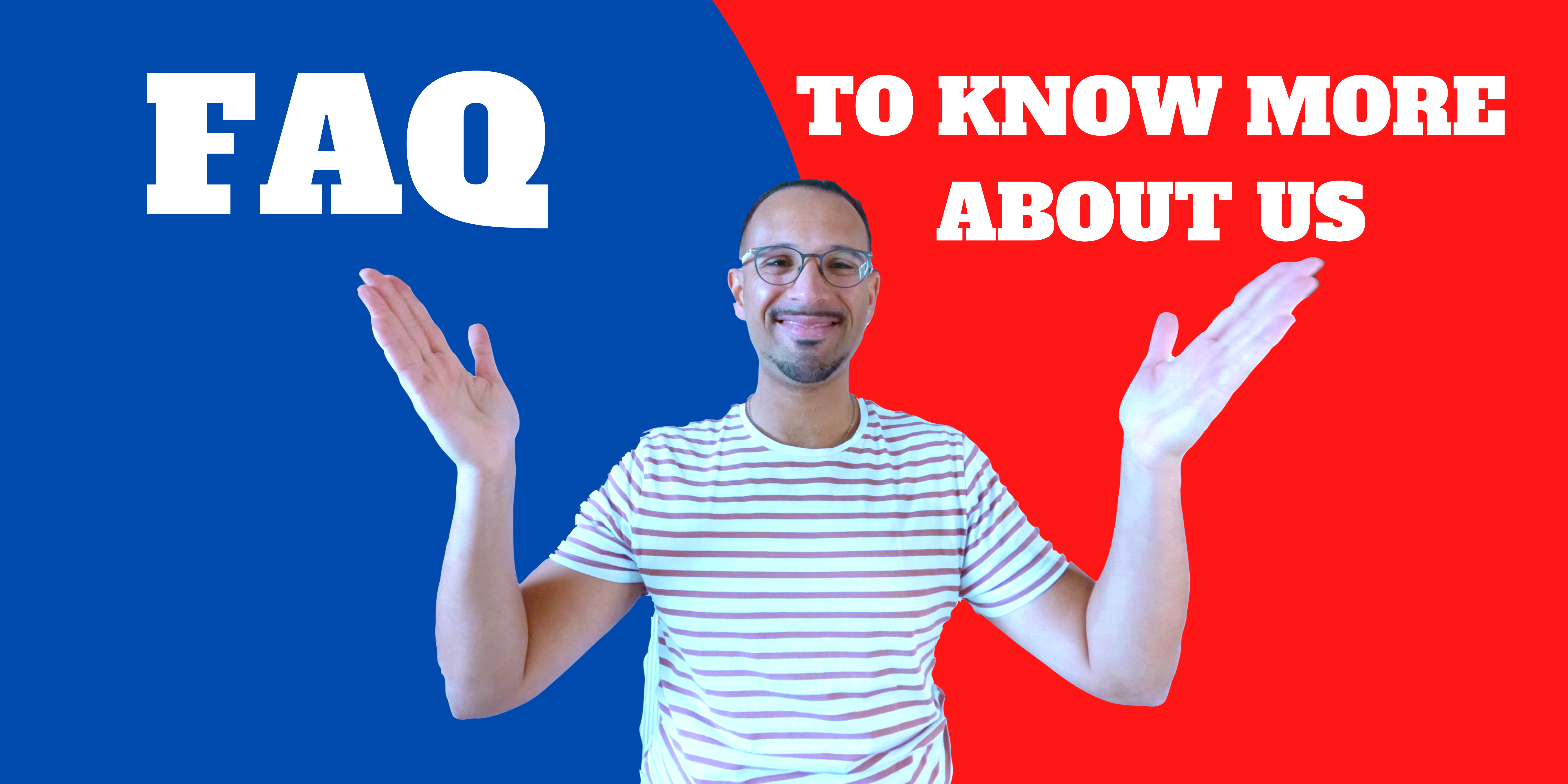 Expatlang – Your online language school
How to book a language lesson with Expatlang
What is the time zone of the language lessons ?
We are located in France on the French Riviera, we use UTC +2 (CEST:Central European Summer Time) and UCT+1 (CET: in winter).
I want to learn with different language teachers? How does it work?
You can book single lesson with different language teachers on our booking platform. If you have already booked a 10h package with a teacher you need to inform them. The teacher willl inform a consultant who will contact you to organize the ongoing lesson.
Is it possible to cancel or to reschedule a lesson ?
Canceling or postponing a session without any fees is only possible up to 24h before your scheduled lesson time. Any request to cancel or postpone a session shorter than 24h beforehand can under no circumstances be refunded and the session is due. For more informaiton we invite you to check our REFUND & PAYMENT POLICY – Expatlang. 
I want to cancel my 10h language package, is it possible?
You are required to send your refund request at finance@expatlang.com. The refund decision shall be made up to 30 calendar days. To the fullest extent permitted by law, any refunds at any time are at our sole discretion only.
My credit card isn't accepted as a payment method for my language lessons, how can I pay?
We use third party payment services to bill you through an online account payment. Only wire transfer to Expatlang bank account could be offered if your credit card isn't accepted.
I would like to change my language teacher. How should I proceed?
You are required to send your request to contact@expatlang.com, our consultant will contact you within 24h. Please write a short explanation in order to help you as quickly as possible with your request.
What are Expatlang's opening hours?
Expatlang's commercial department is located on the French Riviera near Nice, open from Monday to Friday from 8.00 AM to 7.00PM France time. More time slots are available for your online courses, feel free to contact us to set up your first lesson via email our phone.
How to learn a language ?
To learn a language, you should first define your goals. Why you need it. Then, you should select the right resources to achieve them. Contact us for a language audit and get your tailored learning plan.
How to learn a language with Expatlang?
We offer different approaches depending on your level and personality. Whether you want to prepare for an exam or just learn the language for pleasure, we'll guide you on the learning journey and even empower you to become autonomous if you want.
How to learn a language as an expat ?
As an expat, you generally have very specific needs: socialising with the locals, getting around the city or working in a new language. In order not to get lost when learning a language, learn only what you need to achieve your learning goals.
How to make friends in a new city as an expat ?
In order to make friends in a new city, try to sign up for activities that you enjoy in order to get in touch with like-minded locals. You can also try to join some of your local library's events. Finally, you could also meet "l'accueil des villes de France". This association is active in most French cities and towns and helps newcomers settle in their new home.
How to stay motivated to learn a language ?
Learning a language takes time. in order to stay motivated for the long run, define goals that are as relevant as possible for you. Then, work progressively and steadily towards these goals and celebrate every time you reach a major step. Finally, seek help from a teacher or language coach, they often have very efficacious tricks.
How to learn two languages at the same time ?
Learning two languages at the same time isn't easy but often necessary. In order not to get mixed up, define separate learning times for both. For example, study one in the morning and the other in the evening or every second day. Make sure you also practice both languages in addition to your learning time. 
How can a teacher or a tutor help me learn a language?
Teachers can help you define your goals. They can also help you find the quickest way to reach them. They can empower you to become an autonomous and proactive learner and speed up your learning experience. Finally they can help you stay motivated with engaging content over long periods of time.
What's a language coach ?
A language coach is a person who can help you define the best strategy to achieve your language learning goals. They can empower you to become an autonomous learner, help you find the best opportunities to use the language out of the classroom and make you aware of your own learning needs and strengths.
What can I do if I don't have enough time to learn a language ?
For language learning, regularity and efficacious learning is more important than the time you spend. That's why our teachers will always adapt to suit your timetable and help you organise your learning to fit a tight schedule.
How long does it take to learn a language ?
That's a tricky question. It depends on your language goals, on the languages you already speak and many others parameters. If you're just learning to cope when you travel, you'll achieve your goals much quicker than if you have to learn for entering a university. For more information about it, download the dedicated booklet from our download centre. 
What's the best way to learn a language ?
The best way to learn is your own way. We're all different as far as language learning is concerned and becoming conscious of your own needs and strengths will make you a more powerful learner. We can't wait to help you with this. Contact us for a tailored approach. 
Book a 30-minute language audit in which a teacher will help you define your learning goals and find the best approach to start.
If you don't know where to start, feel free to send us an email or to call us. We'll be thrilled to help you start. We're looking forward to meet you.